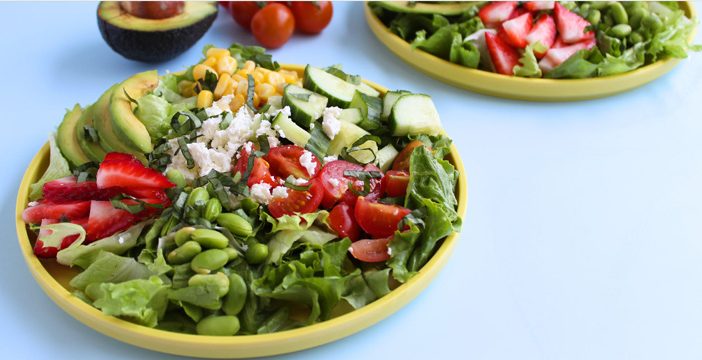 This refreshing summer salad is the perfect side dish during the hot summer months when you need something easy, tasty, and nutrient-dense. It is also loaded with fiber and can be made in 15 minutes or less.
INGREDIENTS
4 cups green leaf lettuce, chopped
½ cup cucumber, chopped
½ cup cherry tomatoes, quartered
½ cup canned corn
½ cup edamame beans, frozen
2-3 strawberries, sliced
½ avocado, sliced
¼ cup feta cheese, crumbled
1 tbsp fresh basil, cut in strips
Lemon Dijon Dressing (makes ¼ cup)
2 tsp Dijon mustard
2 tbsp olive oil
2 tbsp apple cider vinegar
juice from ½ a lemon
¼ tsp salt
INSTRUCTIONS
Prepare edamame beans according to package instructions. If using edamame beans that are in the pod, rinse with cold water once they are cooked until cool and gently pop the beans out of the pods.
In a jar or small bowl, whisk together salad dressing ingredients. If you prefer a more tart dressing, add more apple cider vinegar or lemon juice to taste.
In a bowl, toss lettuce, cucumber, cherry tomato, corn, edamame beans and strawberries until well combined.
Add to two serving bowls and top with avocado slices, feta cheese, basil and drizzle 1 tablespoon of salad dressing on top to each bowl.
Serves 2
*This summer salad is a great option as a side salad but if you wish to make it a meal you can double the recipe ingredients and add 1 cup of edamame beans or an alternative source of protein such as chicken, hard-boiled eggs, salmon, or shrimp.
NUTRITIONAL CONTENT FOR SALAD (without Dressing)

NUTRITIONAL CONTENT FOR DRESSING