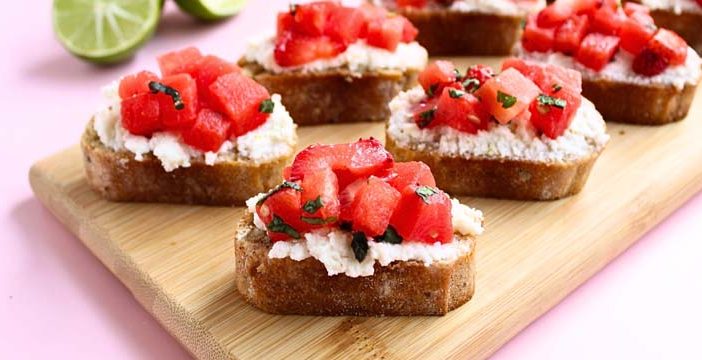 This strawberry watermelon bruschetta recipe is a refreshing take on classic bruschetta by adding seasonal fruit and fresh herbs on top of crunchy homemade crostini. This recipe can also be made in 25 minutes or less and only requires 9 ingredients to prepare!
INGREDIENTS
Whole wheat baguette
1 tbsp oil
1 cup watermelon, cubed
½ cup strawberries, thinly sliced
Juice from ½ lime (1 tbsp)
¼ tsp salt
1 tbsp fresh mint, thinly sliced
1 tbsp fresh basil, thinly sliced
3/4 cup ricotta cheese
INSTRUCTIONS*
To make homemade crostini, preheat the oven to 400F. Slice baguette into ½ inch slices and layer on a prepared baking sheet and lightly brush both sides with olive oil.
Bake in the oven for 8-10 minutes until golden brown, carefully flipping halfway.
While the crostinis are in the oven, prepare bruschetta mixture by combining watermelon, strawberries, lime juice, salt, mint, and basil in a bowl. Gently toss until well combined.
Once the crostini are finished in the oven allow them to cool down for 3-5 minutes.
Prepare strawberry watermelon bruschetta by layering about 1 tbsp of ricotta cheese on to the crostini and topping with a spoonful of the bruschetta mixture.
*optional to drizzle balsamic glaze on top of strawberry watermelon bruschetta but please note that most balsamic glaze varieties are higher in sugar so opt for a lower sugar option if possible.