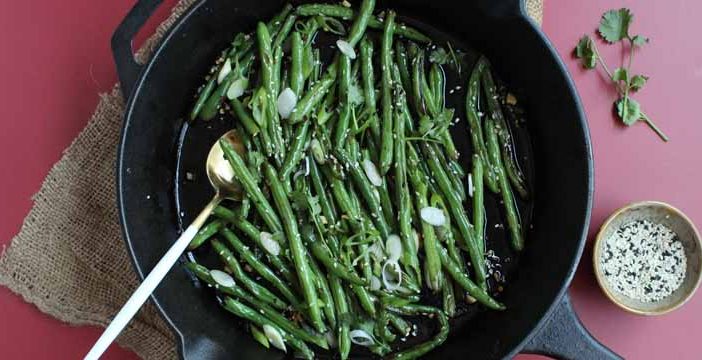 These spicy roasted green beans make for the perfect side-dish or appetizer and are a delicious way to get in your greens! This recipe only requires 9 ingredients and 20 minutes to prepare.
INGREDIENTS
12oz (340g) green beans
1 tbsp olive oil
¼ tsp pepper
2 tsp garlic, minced
1 tsp honey
1 tbsp rice wine vinegar
1 tbsp reduced-sodium soy sauce
1 tbsp sesame oil
¼ tsp red pepper flakes*
Optional toppings**
Sesame seeds
Cilantro
Green onion
INSTRUCTIONS
Preheat the oven to 425F.
Wash and trim green beans, and pat dry with paper towel to absorb excess moisture.
To a prepared baking sheet, add green beans, olive oil, and pepper. Gently combine and spread evenly on baking sheet.
Bake for 15-17 minutes until parts of green beans are golden and lightly blistered.
While green beans are roasting, prepare sauce by whisking together garlic, honey, rice wine vinegar, soy sauce, sesame oil, and red pepper flakes.
Add roasted green beans to a shallow dish and drizzle spicy sauce on top. Mix until well combined.
Serve green beans as a side-dish or appetizer, and top with sesame seeds, green onion, and cilantro.
*If you prefer a spicier sauce you can increase chili flakes to ½ tsp
** Toppings not included in nutrient analysis
Serves: 4