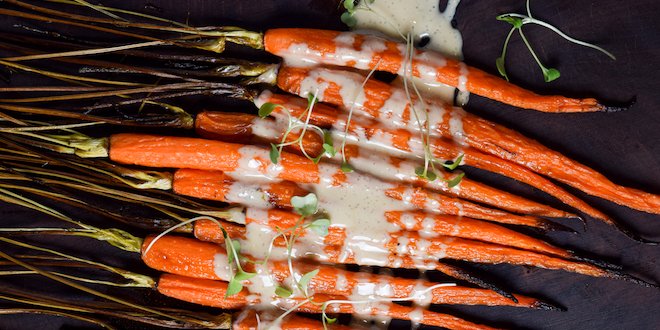 Tahini drizzled on roasted carrots is so delicious. Tahini is sesame seed paste and you will find it near the peanut butter in most grocery stores.
INGREDIENTS
1 bunch (1 pound) of whole carrots with the stems intact, peeled and stems washed
1 tbsp extra virgin olive oil
¼ tsp salt
Tahini Drizzle
2 tbsp tahini paste
1 tbsp lemon juice
Ice water to thin (you will need 2-3 tablespoons)
¼ tsp salt
DIRECTIONS
Arrange the oven rack to the middle position and preheat the oven to 400˚F convection or 425˚F regular bake.
Line a cookie sheet with parchment paper.
Place the carrots on the lined cookie sheet. Drizzle with oil and sprinkle with salt, tossing and rearranging so that the carrots are uniformly lined up.  Cook for 45 minutes.
In the meantime, make the Tahini Drizzle. Whisk all the ingredients in a small bowl until smooth.  Set aside.
When the carrots are ready, add the Tahini Drizzle.
Serves 4.