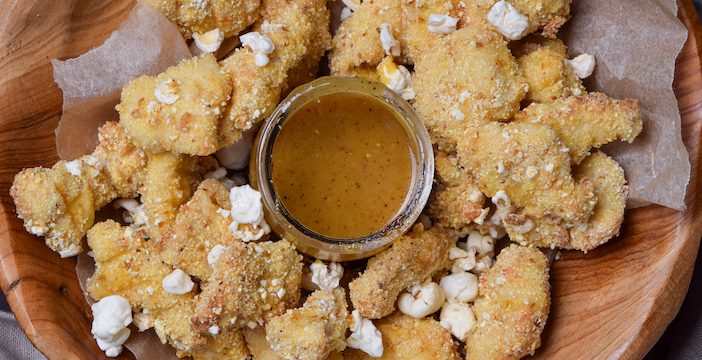 The perfect finger food! These little bites are baked, not fried, making them a little lower in fat. Serve them with this irresistible Chipotle Honey Mustard.
INGREDIENTS
Nonstick oil spray (Pam or avocado oil)
For the Chicken
1 lb chicken breasts, butterflied, cut into 1-2-inch pieces
½ cup cornstarch, potato starch or arrowroot starch/powder
2 eggs, beaten
For the Popcorn Coating
1 tbsp cornstarch, potato starch or arrowroot powder
3 cups plain popped popcorn
½ cup panko or breadcrumbs (GF if necessary)
1 tsp onion powder
½ tsp garlic powder
½ tsp sea or table salt
For the Chipotle Honey Mustard
2 tbsp dijon mustard
2 tbsp olive oil
2 tbsp honey
Small squeeze of lemon
Big pinch of chipotle powder or 1 tsp hot sauce
INSTRUCTIONS
Preheat oven to 400˚F. Line a cookie sheet with foil and place a cooking rack on top of the foil-lined sheet.  Generously spray the cooking rack with nonstick spray.  If you don't have a cooking rack, generously spray the foil with nonstick oil spray.
Make the popcorn coating: In a blender or food processor, combine all the ingredients and process until you have coarse crumbs.  Place them in a zip-top bag or shallow dish.
For the chicken: Place starch in a shallow dish and place eggs in another shallow dish. Arrange dishes in a row so that the starch is first, then the eggs, then the Popcorn Coating.
Working with several pieces of chicken at a time, toss the chicken in starch, shake off excess. Dunk the chicken in egg, then coat it in the Popcorn Coating   Lay coated chicken pieces on the baking rack or directly on the foil-lined sheet.  Repeat with all the chicken.  Generously spray the tops of the chicken bites with additional oil spray.
Bake in the oven for 20-25 minutes or until golden brown.
In the meantime, make the Chipotle Honey Mustard: Mix the mustard with the honey, oil, lemon and chipotle powder or hot sauce.
Serves 4.
Make-Ahead Tip: The chicken can be dipped in starch, egged and coated, placed on a sheet of wax/parchment paper and either stored for the day in the refrigerator or frozen. Once frozen, the chicken pieces can be stored in a zip-top bag.  Allow the chicken to defrost uncovered in the refrigerator for a few hours or overnight before baking.