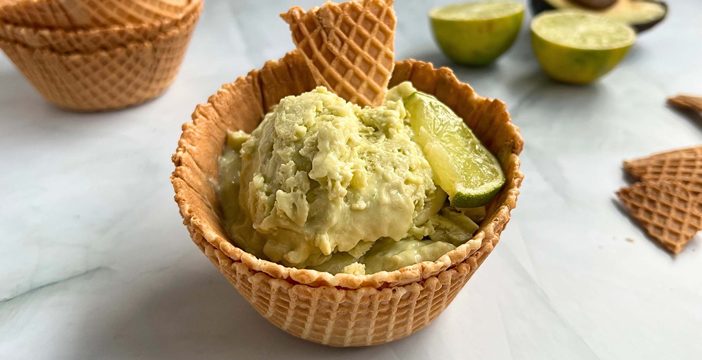 This recipe combines all the citrusy flavour of key lime pie into a healthy ice cream that is perfect to enjoy on a hot summer day. This recipe is also high in protein, healthy fats, and is made with only 7 ingredients.
INGREDIENTS
1 cup avocado, cubed
1 ½ tsp lime zest
Juice from 1 ½ lime
2 tsp honey
2 tbsp cottage cheese
2 tbsp coconut milk
½ medium banana, frozen*
* When freezing bananas, choose semi-unripe (yellow/green) bananas instead of ripe bananas (yellow/brown) as they have a lower glycemic index.
INSTRUCTIONS
To a food processor or a high-speed blender, combine all ingredients and pulse until well combined. Taste as you go and add more lime juice or lime zest if you prefer a more tart flavour.
Once smooth, portion ice cream into a serving bowl and cover with saran wrap. Let sit in the freezer for 2 hours or overnight.
When ready to serve, take ice cream out of the freezer and let thaw for about 5 minutes before eating.
Makes: 1 cup of ice cream
NOTE: Nutritional value does not include waffle cup.