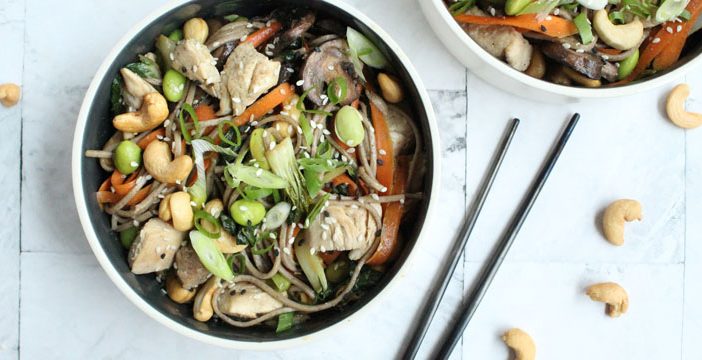 This high-protein chicken stir fry is loaded with vegetables, fiber, 3 sources of protein, and delicious flavour! It is perfect as a weeknight dinner or meal prep.
INGREDIENTS
1 tbsp oil
2 garlic cloves, minced
1 (6 oz) chicken breast, chopped into cubes
1 tsp garlic powder
¼ tsp pepper
1 tbsp reduced-sodium soy sauce
1 tbsp honey
1 tbsp rice wine vinegar
2 tbsp water
1 tsp cornstarch
1 cup mushroom, sliced
1 bok choy stalk, leaves separated and sliced lengthwise
2 small carrots, peeled into ribbons
½ cup frozen shelled edamame, cooked
2 tbsp unsalted cashews
1 ½ cups soba noodles, cooked
2 tbsp green onion stalk, chopped
INSTRUCTIONS
Add olive oil to a skillet over medium heat and sautégarlic for 2-3 minutes until fragrant.
Season chicken with garlic powder and pepper, add to the pan and cook covered for about 3-4 minutes on each side until cooked all the way through. Set aside.
In a separate bowl, whisk together soy sauce, honey, rice wine vinegar, water, and cornstarch.
To the same pan, add mushrooms, bok choy, carrots, and sauce. Cook until vegetables are soft, and sauce starts to thicken, about 3-4 minutes.
Add chicken, edamame, cashews, and soba noodles to the pan and mix together with the vegetables and sauce until everything is well combined.
Garnish with green onion.
Serve and enjoy!
Serves: 2