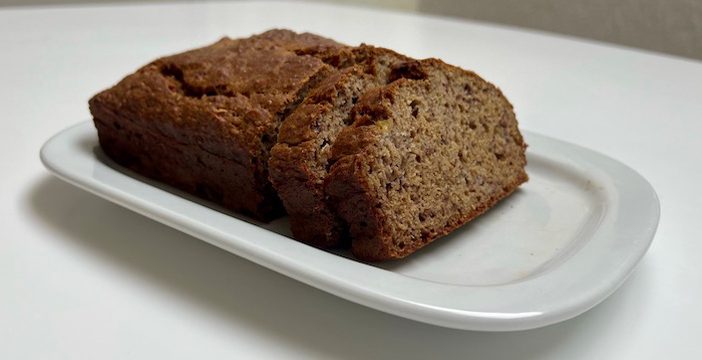 This recipe includes unsweetened applesauce as a substitute for some of the oil, which reduces the overall fat content. The addition of walnuts provides a healthy dose of omega-3 fatty acids and adds a delicious crunch to the bread. And believe it or not – there is no added sugar!
INGREDIENTS
2 ripe bananas, mashed
2 eggs
1/4 cup vegetable oil
1/4 cup unsweetened applesauce
1 tsp vanilla extract
1 1/2 cups whole wheat flour
1 tsp baking soda
1/2 tsp cinnamon
1/4 tsp salt
1/4 cup chopped walnuts (optional)
INSTRUCTIONS
Preheat your oven to 350°F (175°C). Grease a 9×5 inch loaf pan with cooking spray.
In a large mixing bowl, whisk together the mashed bananas, eggs, vegetable oil, applesauce, and vanilla extract.
In a separate bowl, whisk together the whole wheat flour, baking soda, cinnamon, and salt.
Add the dry ingredients to the wet ingredients and stir until just combined. Fold in the chopped walnuts, if using.
Pour the batter into the prepared loaf pan and bake for 50-60 minutes or until a toothpick inserted into the center comes out clean.
Let the banana bread cool in the pan for 10 minutes before removing it to a wire rack to cool completely.
Makes 12 slices
Nutritional analysis includes the addition of walnuts