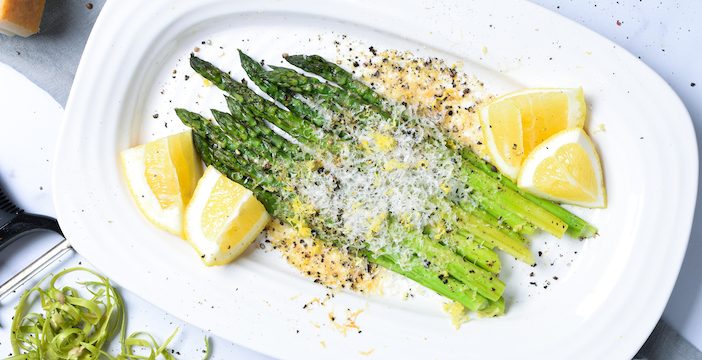 There are a few non-negotiables (smile) that make this dish perfect: the peeling off the woody bottoms of the asparagus spears, the blanching in salted water and the quick roast at the end. If you just roast the asparagus in the oven, the asparagus with be tough.
INGREDIENTS
1 bunch of asparagus
2 tbsp olive oil
¼ cup grated Parmigiano-Reggiano
2 tsp freshly and coarsely ground black pepper
½ lemon
INSTRUCTIONS
Preheat oven to 450˚F.
Bring a skillet filled with water to boil. While the water is boiling, snap off about 1 inch from the bottom of each asparagus spear and then, using a vegetable peeler, peel about 2 inches from the bottom.  Boil the asparagus for 3-4 minutes, drain and dry.
Place the asparagus in an oven-safe serving dish, drizzle with the olive oil and sprinkle with the cheese and pepper.
Bake for 5 minutes. Remove from the oven and serve with a squeeze of lemon.
Serves 4.