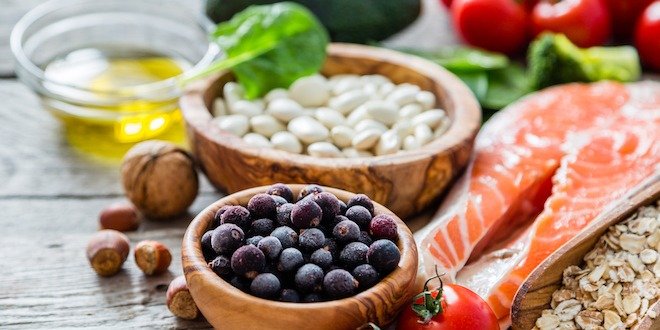 When you have diabetes you also have a higher risk for heart disease. In fact, you're two to four times more likely to have a stroke or die of heart-related issues compared to someone without diabetes. While it's certainly not fair, take comfort in knowing you can make changes to your eating patterns to ensure you are following a diet for the diabetes heart.
What's the connection between diabetes and your heart?
It all starts with your blood sugar. Over time, high levels of blood sugar can damage your arteries and make them harden or stiff. Eventually they block blood flow to the heart or brain, which results in a heart attack or stroke.
The good news is that a healthy diet can improve your heart health so you can reduce your risk of later complications.
Diet changes to improve your heart
The optimal diet for the diabetes heart includes lots of high-fibre grains and cereals, good fats, as well as plenty of vegetables and fruit. These kinds of foods help reduce cholesterol and blood pressure levels, which will in turn reduce your risk of heart attacks and stroke.
Here are some specific changes you can make to your diet when you have diabetes to keep your heart healthier.
Diet for the diabetes heart – some popular options
There are several types of diets that have been shown to improve heart health and even help prevent diabetes. Here are some of the most popular:
Dash Diet: Developed to prevent and control hypertension, this diet is rich in fruits, vegetables, whole grains and low-fat dairy options. It also includes meat, poultry, fish, nuts and beans.
Mediterranean Diet: With a focus on plant-based foods and olive oil to replace butter, this diet has been associated with a lower level of bad cholesterol, which is more likely to build up deposits in your arteries. [link to https://www.diabetescarecommunity.ca/diet-and-fitness-articles/diabetes-diet-articles/the-mediterranean-diet-and-its-benefits/]
Portfolio Diet: Made popular by a Toronto-based researcher, this diet is low in saturated fats and salt, high in fibre and filled with fruits and vegetables. Almonds also play a key part in providing a good source of protein, fibre, heart-healthy fats and vitamin E.
Find more tips on what to eat when you have diabetes to prevent heart complications.
Implement the plate method
If you don't want to subscribe to a specific diet, consider the diabetes plate method. It's simply a guide to help you eat more healthy foods and fewer things that will wreak havoc on your heart.
Using a nine-inch diameter plate as your guide, fill half of it with non-starchy vegetables (e.g., broccoli, cabbage, carrots, salad). Fill a quarter with starchy vegetables and grains (e.g., brown rice, bulgur or sweet potatoes). Finally, fill the last quarter with a lean protein (e.g., fish, chicken, eggs or tofu). You can also have a side serving of dairy (e.g., non-fat yogurt) or fruit. Just remember to watch your portions. If your plate is overflowing with food, you're probably going to eat more calories than needed.
Rest assured that eating the right foods and being mindful of your portions when you have diabetes will help prevent future heart complications. Consider it an investment in the long-term health of your heart.